"POLIPOR" pneumatic aerator is designed for aeration of household, industrial, storm sewage and waste water at treatment facilities of varying capacity, as well as compact installations, biological treatment plants.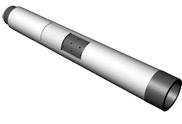 POLIPOR aeration tube
The aerator consists of a perforated polymer tube framework with threaded trailers, which have mating inner and outer threads. The framework is covered with two layers of polymer coating by means of pneumatic extrusion.
The first layer (macroporous) is aimed at even air distribution along length of the module.
The second layer (finely porous) is aimed at air dispersion. This layer combination provides for small-bubble air dispersion in the liquid.